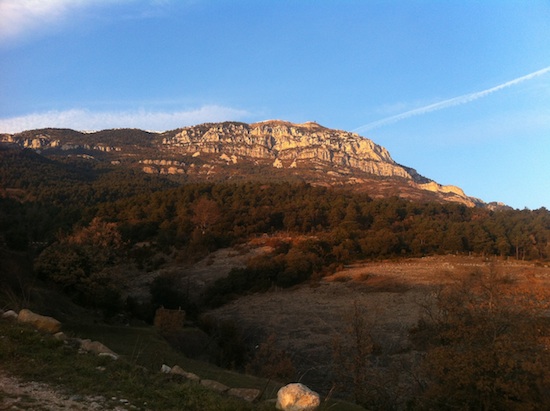 We closed 2012 on a high point with a productive and inspiring meeting with the facilitation team for the Info Activism Camp. The group consisted of 30 people, a combination of Tactical Tech program staff and individuals working in diverse regions with different expertise such as data wrangling, information design, investigative journalism, new media tools and training for activists. All of them are, in different ways, using evidence to illuminate, expose and monitor the misuse of power and abuse of human rights.
We met for four days high in the hills of Catalunya where we spent our time getting to know each other and familiarising ourselves with the concept of the Evidence & Influence Camp and developing it further through intensive working groups. We were lucky enough to be hosted by Canalda, a family-run rural retreat venue on a sprawling piece of land with plenty of walks and solitude, as well as excellent local food. The atmosphere really set the tone for a very productive event.
The event was facilitated by Allen Gunn, from our co-organiser for the camp, Aspiration. Our morning sessions were spent hashing out the concept and practice of evidence-based activism, exploring the convergence of technology, data and information and visual presentation to create a space for creative, data-driven and influential advocacy. We balanced these discussions with figuring out how we would like the camp to shape up. Working from the lessons learned at Tactical Tech and Aspiration's 2009 Camp, the group discussed peer-learning methodologies, outreach, participant applications and follow-up, as well as how to create the right atmosphere and space for collaboration at the camp. We also started to delve into some of the content to be covered at the camp, creating participatory activities from scavenger hunts to digital investigations to teach basic concepts and techniques for data-wrangling, investigative journalism and digital security to activists working with evidence.
After lunch, participants were given free time to catch up with their own work or explore the rugged surrounds. The afternoon sessions were self-organised. Participants who had a burning discussion topic or a skill they wanted to sharevolunteered to host group discussions.
Evenings were filled with a mixture of musical jam sessions, games, a film screening and conversations by the fireside.
The style of the retreat, which combines facilitated discussions with hands-on work and self-organised skillsharing, will be replicated at the Camp. Over the next few months, as we prepare for the Camp in June, we will be developing much of what we covered at the retreat.
More on location, venue and applications soon!
Image: Sunset view at Canalda.
Submitted by faith on Thu, 01/17/2013 - 19:23