10 Tactics Unstitched In Arabic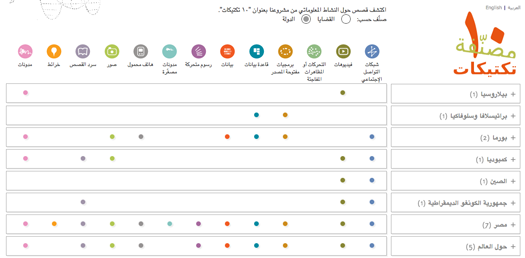 Tactical Tech is pleased to announce the launch of 10 Tactics Unstitched in Arabic.
After speaking to people who had used our original 10 Tactics film and cards for trainings and educational activities, 10 Tactics Unstitched was a logical next step. We pulled out all the campaign examples featured in the original project and placed them in an interactive grid, sortable by campaign issue, country and the tool used. We also linked up to the Tactics and Basics cards, which include general advice as well as suggested group activities for campaign planning and implementation.
The feedback we've had so far is that the Unstitched website provides a very useful and easy way to navigate the 50-plus stories we have now collected under the banner of "info-activism". The website has now been fully translated into Arabic and supplemented with a selection of new inspiring campaign stories from the Arab world.
Over the coming months, we will be adding more examples from the Arab region to showcase the creative and strategic ways in which advocates in this part of the world have been using information to advance their causes.
Visit the website at: www.informationactivism.org/ar/unstitched
If you have any comments on the website or ideas for how we can improve it, or if you'd like to contribute your own information activism campaign example, email us at infoactivism[AT]tacticaltech[DOT]org.
Related Resources:
Original 10 Tactics Project "10 Tactics for Turning Information into Action"
Submitted by joelle on Mon, 10/08/2012 - 14:04