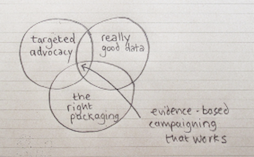 Maternal health, millennium development goals, modern slavery, immigration detention. Our partners asked Tactical Studios for help in making data about these complex issues clear and compelling. Have a look at the work we did together.
We have partnered with numerous NGOs and rights groups - such as prominent international NGOs like Anti-Slavery International and World Vision - to help them organise their information, and create high quality visualisations that they say have strengthened their work:
"I am delighted with the poster Tactical Tech have produced highlighting products produced with a high incidence of forced labour around the world and have received plenty of positive feedback and additional orders. A pictorial representation of products of slavery is much stronger and more effective at conveying the message about the scale of forced labour ... I don't know of any other organisation that has this combination of technical expertise and understanding of human rights issues necessary to produce targeted and effective work. ... Tactical Tech is forward looking and is able to offer the skills and knowledge that campaigners like myself just don't have thereby ensuring that our message has maximum impact."
Joanna Ewart James, Anti-Slavery International
Working on Tactical Studios projects, our staff have field-tested experience in campaigning on human rights and environmental issues. This is combined with proven expertise in the use of new technologies, information design, product design and data analysis. We also work with a pool of professional designers from around the world, bringing visual freshness to creative projects.
Tactical Studios, a project of Tactical Tech, works with rights groups on three main themes that are central to advocacy:
Presentations and workshops to help you learn more about visualisation of information for advocacy, mapping, data gathering, processing and analysis.
Campaign messaging to help you to find the best story-lines in your data, discover your target audiences, decide on the best way to visualise your information, whether as an info-graphic, animation or film, online or in print.
Creative development and implementation, to take your data and work closely with you and our pool of designers to create a visualisation for use in your campaigns.
If you have a visualisation or campaign idea that you want to develop further, then please email us at tacticalstudios@tacticaltech.org
EXAMPLES OF INFORMATION DESIGN WORK BY TACTICAL STUDIOS