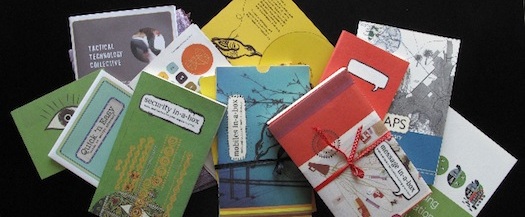 order toolkits and guides

Tactical Tech's toolkits are designed to meet the needs of not-for-profit groups such as NGOs, human rights advocates, independent journalists and community associations. Each toolkit is compiled by a team of international experts and is then rigorously peer-reviewed by an editorial team – with the needs of not-for-profit organisations and human rights advocates prioritised at all times.The following toolkits are available online, as downloadable files or you can place an order with us.
play with data
Understand how evidence can be used to strengthen your campaigns and explore online tools for visualising your data with Drawing by Numbers.
BE INSPIRED
Learn about info-activism and how to choose the right tactics for your campaigns with 10 tactics for turning information into action and 10 Tactics Remixed.
Get creative
Create your own campaign blogs, websites, videos, podcasts, posters, newsletters and more with Message in-a-box.
ASSESS THE RISKS
Understand the risks associated with using digital technologies for advocacy so that you can take informed action. Follow ONO the robot, in the animated series, Survival in the Digital Age, as he reveals the traces we leave behind in the digital world and how to minimise them.
Protect yourself
Identify the digital security threats in your advocacy work and learn to keep your own and your organisation's data and communications private with Security in-a-box.
TRACE YOUR SHADOW
Explore the digital shadows you cast and how you can change their size and shape with Me and My Shadow.
Visualise YOUR ISSUE

Use visual communication to strengthen your campaigns and projects with this guide, Visualising Information for Advocacy.
Map YOUR ISSUE
Explore mapping techniques that can be used for campaigning with Maps for Advocacy.
STAY MOBILE
Design and implement a mobile advocacy strategy for your organisation with Mobiles in-a-box.
GET ONLINE
Get introduced to a variety of popular online services for use in advocacy work with the Quick 'n' Easy Guide to Online Advocacy.
LEARN HOW IT WORKS
Understand how mobile phones, computers and the internet works so that you can avert disaster and use them as safely as possible with this guide, Digital Survival.
Want to get your hands on a copy? Each of the links above will take you to the website, web page or pdf version of our toolkits. Contact us If you would like to have printed copies.
All our toolkits are licensed under Creative Commons which enables others to reuse our material; if you would like to translate the toolkits into other languages or repurpose them contact us at toolkits@tacticaltech@org