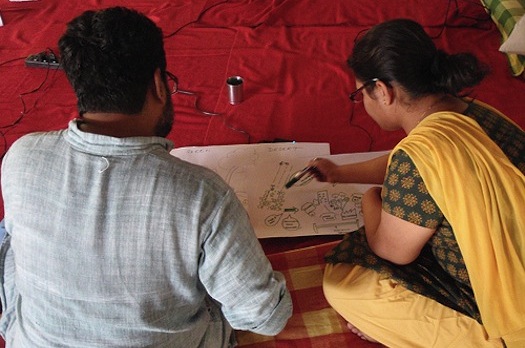 Maps can reveal inequalities, differences in perception and represent issues and communities that might otherwise be ignored. Teaching advocates how to use geographical mapping techniques equips them with a fresh perspective and a powerful tool for their work. Such was the philosophy behind the series of workshops, "Maps for Making Change", organised by the Centre for Internet and Society in collaboration with Tactical Tech in India.
The 25 participants were a vibrant group of grassroots activists, NGO workers, artists and researchers working on a variety of issues. The five-month project period allowed the participants to learn mapping techniques and develop their own projects with the support of a team of experienced mappers. The projects were then exhibited at the concluding event held between 26-28 April in Bangalore.

Kate Morioka, workshop facilitator and supporting organiser says that at the crux of the project was the need to bring the often demarcated disciplines of technology and social sciences into cohesion. Recalling the session she led on creating partnerships between techies and activists, Kate explains: "We had long heated discussions about bridging the gap between techies and activists. There are many stereotypes and pre-conceptions we hold about them and it is easy to defend our own discipline/roles without critical reflection. In the end we are all people and whether we are techies or activists is just a matter of our profession (or lifestyle for some!) and we need to look beyond the assumptions and welcome new ways of thinking, doing and solving problems into our own lives and work."
19 different mapping projects emerged from this workshop. The majority of these were online, created with digital tools like Google Maps, while the other half appeared as installations, hand-drawn maps and prints. According to Kate, "the beauty of this project was that everyone decided to add their own knowledge, expertise and creativity into their maps so every map looked different."
The full list of projects which emerged from the workshop series:
Tools of the Trade: maps for sex workers and sex worker advocacy
The City Demolished
Labour issues and pollution problems in mining in Panna District, Madhya Pradesh (MP), India
Stepwells of Vadodara, Gujarat
Large development projects siphoning resources: BIAL - A case study
IDPS Camp in Assam
Mapping dissent: displacement and eviction in India
Issue Mapping Portal For Kerala
Behind the Tin Sheets - film on the people working on the metro in Bangalore
Bangalore by Rail
Corporate investment and Adivasi displacement in Chhattisgarh
Ringing the Bell: Violence against women and Interventions
Invisibles of a metropolis: Mapping pavement communities of Mumbai
Mining belt of Goa
More information about these projects can be found on the "Maps for Making Change" project wiki which is now open to the public. The wiki also includes plenty of information and guidance for anyone interested in using mapping technologies.
Image supplied by Kate Morioka
Submitted by allan on Tue, 05/18/2010 - 03:13