Data workshop at Transmediale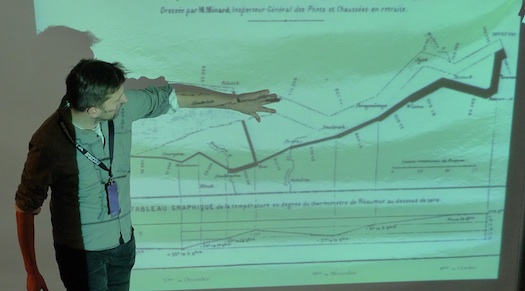 As a more arts-focussed than advocacy event, the Transmediale Festival of Art and Digital Culture offered an opportunity for Tactical Tech to engage a different audience in thinking about how data and visualisation strategies are a means for political engagement. The festival was designed with an open and informal approach allowing to walk around the venue, the Haus der Kulturen der Welt, and take in whatever they were interested including talks, film screenings, live performances, installations and even shop for a new identity at Heath Bunting's Identity Bureau stall.
On the first day of the festival, over 30 participants gathered for Tactical Tech's workshop, "Drawing by Numbers – Data and the Art of Political Engagement". The workshop was formatted to speak to an audience, engage this audience in thinking about data, how we actually engage with it in our every day lives, through our interactions with others and our understanding of our world, and then how data can be used in creative ways for political engagement, or advocacy. Together we looked at different ways we can find data: finding public data yourself, asking for data which is legally public but cannot be accessed or simply by crowdsourcing for example, Sukey, the mobile application for protesters in the UK to circumvent police kettling of street protesters. We also looked at the different formats for representing data whether it be a chart, a map, a video or an infographic, drawing from key examples around the world. See some of the examples we discussed in a list compiled by one of the participants (http://bit.ly/bundles/vongomben/2)
On the 4th February, Marek Tuszynski co-facilitated an audience driven discussion on "Strategies of Political Participation" with Allen Gunn, head of Aspiration Technology, Michelle Thorne (the International Project Manager for Creative Commons, Heath Bunting from Irrational.org. Topics discussed were game theory and digital activism, mobilising and organising advocacy with digital tools and identity and privacy. The last event Tactical Tech took part in was another workshop "Through the Iris – Political Participation Through information Design". This built on the first workshop about data, with short focussed sessions on how to use data to create compelling visual campaigns, including using various free and open source tools for visualisation.
Image: Marek showing the types of data represented in Charles Joseph Minard's rendering of the losses of Napoleon's army in the Russian Campaign of 1812.
Submitted by faith on Thu, 02/10/2011 - 01:31