Info-Activist: Botswang Kgeledi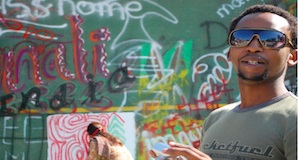 Botswang Kgeledi (24) attended the Info-Activist Camp as an established technology expert and a fervent promoter of digital based advocacy in Southern Africa. For him, the Info-Activism Camp was a place to gain new technical knowledge, make connections and join a global network of people, all striving to achieve social justice.
At the time he was working as an IT programming officer for the South African NGO Network (SANGONeT). SANGONeT is focussed on the benefit of ICTs for civil society and are well known for SANGOTeCH, a project created in collaboration with TechSoup Global, to service NGOS in Southern Africa with hardware donations and discounts.
Botswang found the sessions on mobile phones for advocacy particularly enlightening. In February 2010, SANGONeT, submitted a proposal to the Bill & Melinda Gates Foundation for a project to support the work of small-scale agriculture producers through the introduction of various mobile phone applications. Botswang says the knowledge he acquired at the camp helped to make this proposal more innovative – especially with the incorporation of software applications for mobile communication, as well as protocols such as USSD, which are cheaper alternatives to SMS and regular phone calls.
At the camp, Botswang was also introduced to open source crowd-sourcing platform, Ushahidi, which he subsequently used in an election monitoring project, run by SANGONeT and the National Society for Human Rights (NSHR), in Namibia. Volunteer monitors were able to send in reports via mobile phones which were then immediately mapped and distributed to the mainstream media and the public at large through a website.
Botswang says he made valuable connections at the camp. He was invited to the Popular Media Mindblast event held in Upington, Northern Cape this year, organised by fellow camper, Mark Weinberg, from the Alternative Information Development Centre (AIDC) in Cape Town. An important feature of this event for Botswang was the way it reflected and built upon the Info-Activism camp experience.
Looking back now, Botswang echoes other campers' sentiments, about the diversity of the participants and the exposure to different advocacy initiatives around the world. He says:
"One of the main things I can honestly say about the Info-Activism Camp is that it was an eye-opener in terms of a global view for me. It made me aware of the many things they do internationally within the non-profit sector. I think that it was also important for them also since they do their work within a specific community and don't realise that there is so many other people doing the same work. The camp set a footprint on an international level I can say. I now feel I know more about what's going on internationally in this field than I had ever known before."
Image: Botswang during the Visualisation Festival at the camp. Photo by Genner Llanes-Ortiz.
Submitted by faith on Mon, 11/22/2010 - 19:13